The Ilford & West Essex Model Railway Club was formed in 1930 and is one of the oldest model railway clubs in the UK - only The Model Railway Club and the Wimbledon Model Railway Club and the Manchester Model Railway Society are known to have a longer history.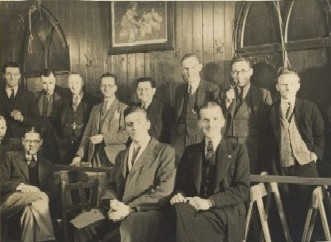 It all began back in 1930, when a young gentleman by the name of Ronnie Riddle (front right) advertised for like-minded railway modellers to attend a meeting in Ilford. The response was encouraging and the seeds of the Ilford & District Model Railway Club were sown.
Then, in February 1935, the West Essex Model Railway club (which had formed three years earlier) and the Ilford & District were amalgamated to form Ilford & West Essex Model Railway Club. Ronnie Riddle was the club's founding Secretary and became Life President, enabling his later years to be the most enjoyable as the club continued to grow in strength.
After the war the club established its headquarters in Hearne Road, Romford. Then in the mid-1950's a site was found adjacent to Chadwell Heath Railway Station, which to this day provides the club with its headquarters.
The first incarnation of the club house back in the mid-1950's was two Nissen huts with an LNER E4 cab as an entrance. Then in 1966 a pre-cast concrete building replaced the Nissen huts.
The club exhibition in those days was a four-day affair held at Ilford Town Hall, with nearly 10,000 enthusiasts attending at its peak. Unfortunately, as the number of clubs and events has grown it has not been possible to repeat these numbers.
In the 1990s, club members under the guidance of Len Dewell extended the club house to include a fully-fitted kitchen and tea-bar, toilets and our very own library.
In October 2005 we celebrated club's 75th Anniversary with the club's 50th Annual Exhibition. The exhibition in 2005 moved to a new, more conveniently situated local venue (St Edwards School, Romford), which has remained the home of the exhibition ever since.
We also, in 2005, launched this, our official web site at www.iwemrc.org.uk in an effort to modernise the club and reach a wider audience of enthusiasts and potential members.
Having held a special celebration exhibition WEST ESSEX MODELRAIL 2010 to mark the club's 80th anniversary, and followed up with successful shows in 2011 and 2012, we are now looking ahead to WEST ESSEX MODELRAIL 2013 in October 2013.
Due to the refurbishment works at Chadwell Heath Station, we were unfortuately unable to hold our monthly Steam/Open Days in 2012, but with the works now completed and our site restored, we are looking forward to opening to the public again in April 2013, see Steam Days.