Once a month we hold an Open Day at the club's headquarters, primarily for running the 7¼" Gauge Miniature Railway, but also giving the public a chance to come down and see what we are about.
First Sunday of the month
from April to September
10:30am to 4pm

Admission to club house - FREE
Train Rides - 50p per ride or £3 all day pass

Light refreshments available all day

Sunday 01 April 2018
Sunday 06 May 2018
Sunday 03 June 2018
Sunday 01 July 2018
Sunday 05 August 2018
Sunday 02 September 2018
These dates may vary nearer the time of each open day to fit in with the availability of club members. Please check the web site during the week before you intend to visit us.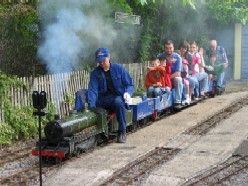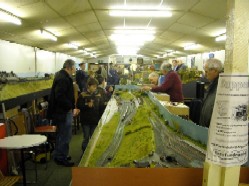 In addition to running the Miniature Railway, the club house is opened up to the public with all the layouts on display.
On most Open Days you will see several of the layouts running, or members of some of the sections may be there working on them - and always ready for a chat!
See our Photo Gallery for previous Steam Days.
Please be aware that, because the club's premises are situated next to Chadwell Heath Railway Station, the only access to the site is unfortunately via two flights of steps down from street level.