Owner
Club Layout
Scale/Gauge
2mm/N gauge
Outline
British
Dimensions
16ft x 3ft
Space required
18ft x 6ft (operating space behind)
Power requirements
1 x 13A socket, est. 250W
Operators/Crew
4
Transport expenses
2-3 cars
Availability
Available for 1 or 2 day exhibitions
Contact
Ken Mayor
ken.mayor@iwemrc.org.uk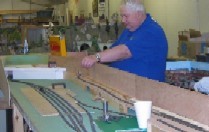 The section's newest layout, originally titled Bolland Road & Riddle End, was renamed Bolland Road & Turton Green in honour of John Turton (pictured right), who sadly passed away shortly after our 2009 exhibition.
The layout gives us continuous two-way running, with a fiddle yard at the back and a local branch running along the back. Members' own rolling stock is used on the layout.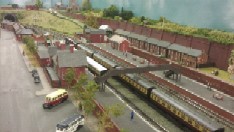 Bolland Road & Riddle End (as it was then) made its first public appearance at our 2009 Exhibition in October, though at that time it was still considered 'under construction' as it was lacking some of the finer scenic detail.
The work on the scenery and fine detailing has progressed well, and a much improved layout was exhibited at the Romford MRS Exhibition in November 2010. Next public appearance is at our own show West Essex Modelrail 2012 in October 2012.