Owner
Club Layout
Scale/Gauge
7mm/O gauge
Outline
British
Availability
No longer available for exhibitions
Contact
Terry Horner
terry.horner@iwemrc.org.uk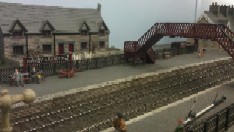 The O Gauge section's former exhibition layout is based on Kirkby Stephen on the Settle & Carlisle railway. This is a very substantial model and was originally about 55 feet in length. The layout is named Kirkby Grandfield in memory of Geoff Grandfield, who was a founding member of the 'O' Gauge Guild and former president of our club.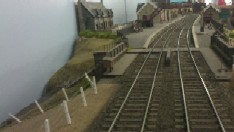 The layout has been retired from the exhibition circuit and, now minus its ten feet of fiddle yard at each end, is permanently erected in the club house.
A removable extension has been constructed so that we can enjoy continuous running with much longer trains than has been possible previously. The extension is erected only on O gauge section meeting nights (Friday) so that it does not interfere with the other sections on their meeting nights.