| | |
| --- | --- |
| Owner | Club Layout |
| Scale/Gauge | 7mm/O gauge |
| Outline | British |
| Availability | Layout sold in 2015 |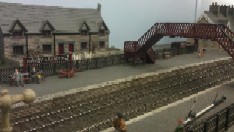 The O Gauge section's former exhibition layout was based on Kirkby Stephen on the Settle & Carlisle railway, and was originally about 55 feet in length. The layout was named Kirkby Grandfield in memory of Geoff Grandfield, who was a founding member of the 'O' Gauge Guild and former president of our club.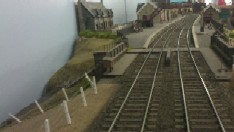 Once the layout was tired from the exhibition circuit, it was set up permanently in the club house (minus its 20 feet of fiddle yard), and an extension was built in the form of a shelf plus temporary curved trestles, to give us the luxury of continuous running on our O gauge section nights (Friday). The layout was sold in 2015, but we have kept the extension, known as the 'Roundy'.