| | |
| --- | --- |
| Owner | Peter Edmondson, N Gauge section |
| Scale/Gauge | 2mm/N gauge |
| Outline | LNWR/LMS circa 1933 |
| Availability | *** LAYOUT SOLD *** |
Tamworth was formerly the exhibition layout of the club's N Gauge Section. Since purchase Peter Edmondson has added the high level Midland Station, and re-modelled the main station building so that it now represents the station at Tamworth on the Trent Valley Line on the LNWR/LMS West Coast main line, London (Euston) to Glasgow (Central).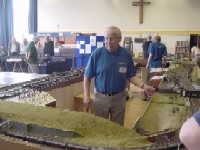 The Tamworth high level station was located on the Birmingham-Derby main line of the Midland Railway, opened in 1839. The Trent Valley Railway was built from Rugby to Stafford by the LNWR, and opened in 1847, so that the west coast main line could bypass Birmingham.

The LNWR line ran at right angles to - and passed beneath - the Midland station by means of a bridge. Tamworth was a small market town, but its location astride the West Coast and Midland lines linking Bristol to Newcastle gave it immense strategic importance as a postal exchange point, and secured for Tamworth a passenger service that was far better than might otherwise have been.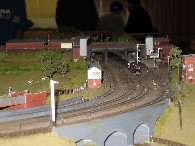 The layout is four-track all the way round and has a 36-train fiddle yard. Most of the buildings and structures were built by section member Frank Roberts, electrics by Peter Pulham and David Silman.
Featured 'Railway of the Month', Railway Modeller January 2005.
The layout has now been sold.