| | |
| --- | --- |
| Owner | Alan Waredraper, North American section |
| Scale/Gauge | G45 (16mm/45mm gauge) |
| Outline | British, fictional |
| Dimensions | 11ft x 8ft |
| Space required | 15ft x 12ft (viewed from all sides) |
| Power requirements | 1 x 13A socket |
| Operators/Crew | 3-4 |
| Transport expenses | 2 cars & 1 trailer |
| Availability | No longer available for exhibitions |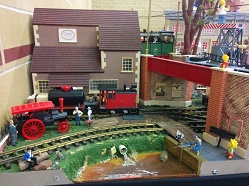 This layout depicts the fictional town of Crofton, which the locals sub-divide into two distinct halves:
Upper Crofton with its idyllic old-fashioned shops, post office, pub, picturesque town square and regular tram service, is the very essence of gentility. Who wouldn't want to live there?
Lower Crofton - a dirty, noisy industrial area with its dockside railway, oil refinery and factories - has just one redeeming feature; it manufactures the sherry that gives the town its name and keeps the inhabitants of Upper Crofton supplied with their favourite aperitif.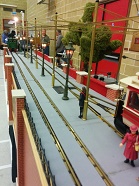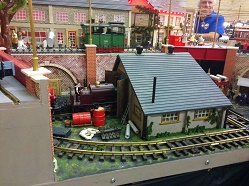 Both the upper and lower levels can be operated manually or set to run an automatic sequence, controlled by optical sensors and a computer board.
Trackwork is mostly LGB, with hand-made Y points, and the dual gauge track by the dockside made by modifying LGB track. Buildings, bridges and structures are all scratch-built, mostly from plywood. The finer detailing of the buildings, inside and out, is a mixture of railway and dollhouse accessories and some improvised from cheaper everyday materials.
See our 2012 Exhibition page for more photos.